The Isuzu FTR
---
The 2024 Isuzu F-Series trucks have been engineered with more power and stronger components. Now available in both class 6 and 7, their low cab forward design gives owners and drivers the maneuverability, visibility, power and payload to move their cargo with ease.
Isuzu F-Series trucks are powered by the Cummins B6.7, the most popular engine ever built by Cummins. Under constant improvement for nearly 40 years, well over 12 million B-series engines have been sold. This historic accomplishment is a testament to the engine's technological advances and durability in the medium-duty segment.
Resources
Isuzu FTR Features
---
The B6.7 is the most popular engine ever built by Cummins. The B6.7 is a 6-cylinder diesel engine that outputs 260-hp and 660 lb.-ft. of torque.
The Allison Rugged Duty Series Transmission was built for the medium-duty market. Its proven durability and reliability provide greater uptime with a lower cost of operation.
The Isuzu F-Series trucks are available with air suspension. The standard air compressor outputs 17-CFM to quickly fill the air tanks and fill the suspension's air bags.
The Isuzu F-Series offers a 50-gallon and a 100-gallon fuel tank. This gives customers the option to increase their range and lessen fuel stops.
Isuzu F-Series trucks are equipped with standard 11R22.5 tires on steel wheels. Customers can opt for aluminum wheels (shown) and, on the class 6 FTR, have the option for low-pro tires.
LOWER COST OF OWNERSHIP
---
The Isuzu FTR, like every Isuzu diesel truck, comes with a number of features and programs that dramatically reduce downtime and overall cost of ownership, including:
A standard Multi-Information Display that allows drivers to monitor the status and condition of over a dozen vehicle performance functions, reducing maintenance costs and downtime
Available Vehicle Health Reports provide comprehensive analysis of the truck's powertrain and emissions systems, fuel economy, brake usage and driver operating habits
Three-year/unlimited mileage powertrain limited warranty*
Four-year/unlimited mileage perforation from corrosion limited warranty
Isuzu FTR Specifications
---
Isuzu FTR – Diesel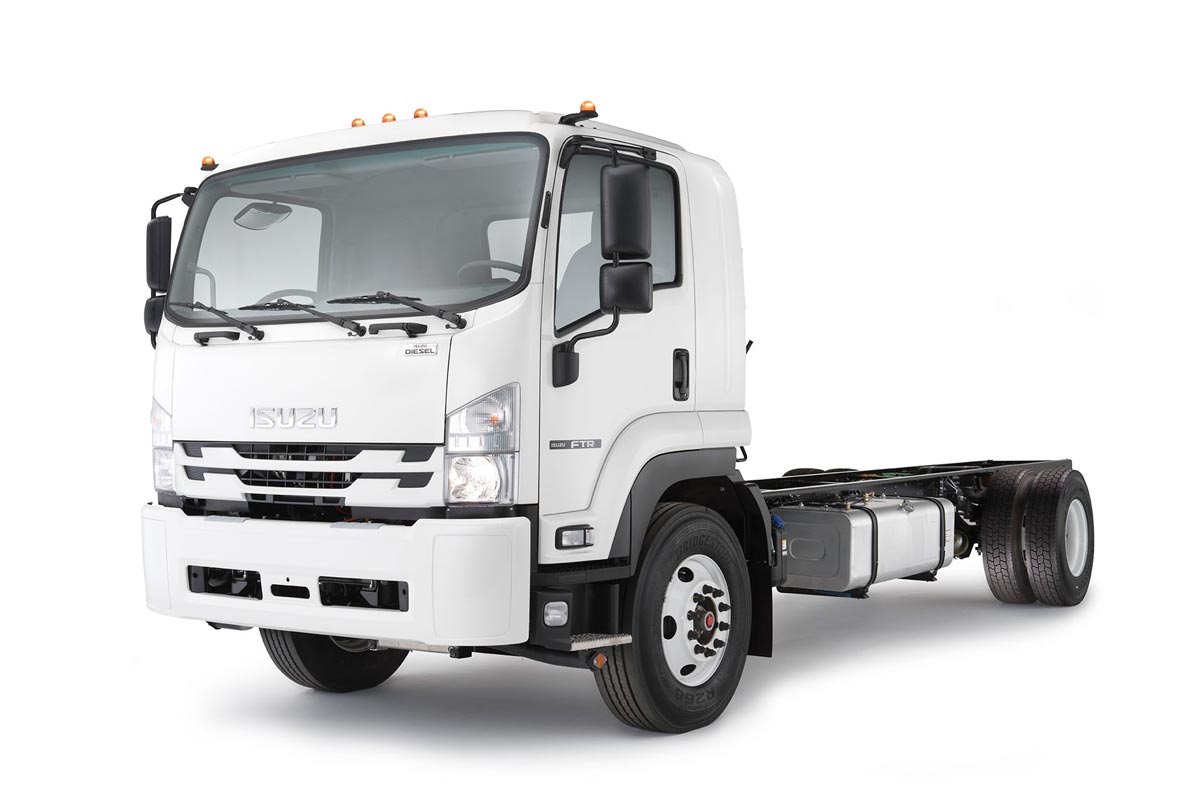 GVWR/GCWR: 25,950/30,000 lbs
Payload: 14,505 – 16,264 lbs.
Axles: 12,000 lbs., 19,000 lbs.
Ratio: 4.88 or 5.57
Engine: Cummins B6.7L Diesel
Engine Power: 260hp @ 2,400 rpm
Transmission: 6 Speed Automatic